Author-led Online Book Studies
New, affordable professional development that's like having...
Ellin Oliver Keene
visit your school - without the cost of a plane ticket.
Katie Wood Ray
discuss writing workshop with your staff - with no teacher
travel expenses.
Smokey Daniels
talk to every teacher in your district - without busting
your PD budget
Heinemann's Author-led Online Book Studies give you four online book-study sessions with these, and other Heinemann authors:
Each session is fully interactive via audio and text messaging.
You determine the number of participants by purchasing up to 100 site licenses.
Sessions include specific learning objectives and opportunities to earn CEU credits.
Our books are great. But talking about them with our authors is even better.
Make interactive professional development affordable on even the tightest budget with Heinemann's Author-led Online Book Studies.
For more information please call 800.541.2086.
Professional Development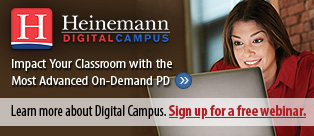 Heinemann PD Catalog-Journal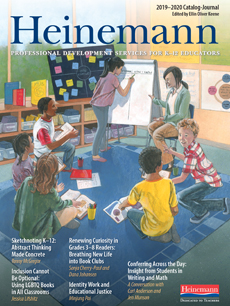 Be sure to read our latest issue of Heinemann's Professional Development Catalog-Journal. Our Spring 2013 issue explores how we can embrace the new emphasis on Common Core informational text without diminishing children's curiosity and appetite for knowledge, and the overarching importance of sticking with the foundations of best instructional practices.
Download and share provocative articles and resources presented by leading thinkers in our field here ».