Multi-Day Institute

:


The 6th Annual Boothbay Literacy Retreat

Presented by Kylene Beers and Robert E. Probst

Register Now
Overview
The 6th Annual Boothbay Literacy Retreat
LED BY KYLENE BEERS AND BOB PROBST WITH OTHER MASTER FACULTY
Join Kylene Beers, Bob Probst, and an impressive faculty for the 6th Annual Boothbay Literacy Retreat. While the setting is exactly what you seek in a retreat, you'll find your days and nights packed with learning as we explore critical practices for helping struggling readers and writers in this 21st century world.
During this week, we'll explore several big questions shaping education today:
What practices not only create critical readers but also create lifetime readers?
How do I build the habits of mind needed for close reading and rigor, and how do I focus on text-dependent questions without creating teacher-dependent students?
How do I create a tech-rich classroom when I'm not (too) tech savvy and my classroom is (perhaps) tech poor?
What are the skills and habits of mind students need now to be better readers and writers in this changing world?
Our goal at the retreat is to slow down, think carefully, listen intently, and speculate with colleagues about strategies that help all students achieve at the highest levels. We arrange the day (and night) in four parts:
Presentations - These are the times when we come together as a large group to learn literacy strategies and technology tools.
Meditations - These are the times you are working on your own, reading, writing, reflecting.
Conversations- During these blocks of time, you're in small groups to think with others about the topic of the day.
Summations - Always the popular part of the day, summations are when we return as a large group in the evenings for dessert and to hear from our distinguished lecturer for the night.
Master Faculty
Ellin Oliver Keene
Chris Crutcher
Teri Lesesne
Linda Rief
Penny Kittle
Sara Kajder
Program Structure
Each day begins early with an optional yoga class followed by a writing class from our writer-in-residence Linda Rief. After breakfast, we convene for a presentation. From there we move among meditations and conversations and then in the afternoon a presentation from our tech-guru, Sara Kajder. The technology tools Sara shares are hands-on, so bring your laptop. The day concludes around 4pm for you to enjoy the surrounding area and dinner on your own. We reconvene at 8pm for our distinguished lecture series.
Special "Lagniappe" Writing Session
The retreat officially ends at noon on Wednesday. We hope, however, that many of you will decide to stay with us through Thursday at noon. Wednesday afternoon and Thursday morning we offer what we call a "lagniappe" session. This New Orleans word (pronounced lan-yap) means "a little something extra." You'll work with master writers Chris Crutcher, Penny Kittle, Linda Rief, and Teri Lesesne, as they discuss how to help students with content area writing.
Who Should Attend?
Classroom Teachers 4-12
Literacy Coaches
Reading/Writing Specialists
Principals
District Leaders
Teacher Educators
Pricing Information
The cost of this institute is $795.00 per person and includes the following:
Breakfast each day
Lunch on each day except Monday
A certificate of attendance for clock hours.
For a group of three or more registering at the same time we offer a group rate of $755.00 per person.
Early Bird Special!
Register by May 20, 2013 and save!
Individual..................................................$715.00
3 or more.................................................$675.00
Special "Lagniappe" Writing Session Pricing
Stay for this special extra session ......................$65 for the session.
Call or email for details: 800-541-2086 ext. 1151 or Institutes@Heinemann.com
Overnight Accommodations
The Spruce Point Inn Resort has many options for overnight rooms ranging from single rooms starting at $95.00 per night through 3 Bedroom Condos for $359.00 per night. They also have upgraded rooms and smaller condos available for between $105.00 per night to $259.00 per night. Be sure to make your overnight arrangements as soon as possible as rooms, cottages and condos are on a first come basis.
---
Upcoming Dates & Locations
06/23/2013-06/26/2013 - Boothbay Harbor, ME
Register Now:
Availability: Available
When: 06/23/2013 - 06/26/2013
Where:
Spruce Point Inn and Spa
Grandview Avenue
Boothbay Harbor, ME 04538
2076334152
Special Room Rates:
Single: $145.00
Double: $145.00
(You must mention you are attending a Heinemann event.)
Reservation Phone: 1.800.553.0289
Reservations must be made by 05/24/2013.
Closest Airport: Portland ME
Pricing Information
Price: $795.00
*If you register 3 or more people at the same time, the discount rate is $755.00 per person.

Download a printable registration form


Download a PDF of our brochure
Institutes
Speakers
Institutes
Speakers
Professional Development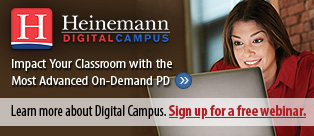 Heinemann PD Catalog-Journal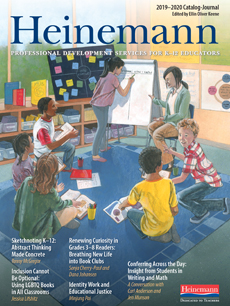 Be sure to read our latest issue of Heinemann's Professional Development Catalog-Journal. Our Spring 2013 issue explores how we can embrace the new emphasis on Common Core informational text without diminishing children's curiosity and appetite for knowledge, and the overarching importance of sticking with the foundations of best instructional practices.
Download and share provocative articles and resources presented by leading thinkers in our field here ».